DAFWA lupin breeder Jon Clements (left) and Pulse Australia industry development manager at the official variety launch and naming event for PBA Jurien in early September.
PBA Jurien—new lupin for WA
The release of a PBA Jurien (previously WALAN 2385) combines disease resistance and very high yield in one variety with adaptation to all lupin zones in Western Australia.
Industry development manager (western) Alan Meldrum says PBA Jurien is a very high yielding variety, averaging 10% more yield than Mandelup, adapted to all growing areas in WA.
"Rarely does a new variety offer growers such a jump in yield across all environments with enhanced disease resistance," he says. "PBA Jurien delivers a statewide 5% increase in yield in all lupin zones over PBA Barlock and an average yield increase over Mandelup of around 10%. PBA Jurien is now the recommended variety for all lupin zones in WA."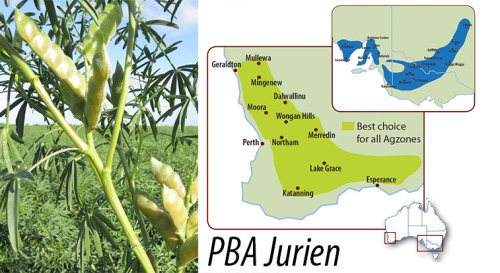 PBA Jurien is a very high yielding variety that is a viable alternative to PBA Barlock and PBA Gunyidi and Jenabillup.
PBA Jurien has robust disease status for a wide range of diseases. including being moderately resistant (MR) to Bean Yellow Mosaic Virus (BYMV), equivalent to Jenabillup. BYMV, spread by aphids, can lead to large yield losses in the higher rainfall southern regions. It is resistant ® to phomopsis, which is much better than Jenabillup's moderately susceptible (MS) status. This reduces the risk of lupinosis in stock grazing PBA Jurien stubbles after rain. Combined with a yield improvement over Jenabillup of 4 to 7%, PBA Jurien is now the most suitable variety for the south coast and south west regions, replacing Jenabillup in Lupin zones 4 and 8.
PBA Jurien is resistant ® to anthracnose and is slightly higher yielding than PBA Barlock, making it highly suited to the west coast regions where anthracnose is a yield threat.
PBA Jurien has medium to large seed, similar to Mandelup. The protein content of PBA Jurien is similar to Jenabillup and slightly higher than Mandelup. The seed coat is pale, similar to Mandelup.
For growers supplying lupin end-users preferring the high protein variety Coromup, PBA Jurien may not be a suitable replacement as its protein level is only equivalent to Mandelup.
Advice from Seednet is that seed supplies of PBA Jurien for 2016 are expected to be good. An End Point Royalty (EPR) of $2.75 per tonne (GST inclusive), which includes breeder royalties, applies upon delivery of this variety.
All the details of PBA Jurien are included in the Variety Management Package, on the Pulse Australia website.
For more informationplease contact Alan Meldrum, Pulse Australia (Industry Development Manager – Western) P: 0427 384 760