The Australian Pulse Conference will be held in Tamworth, NSW from 12 to 14 September 2016, to coincide with the International Year of Pulses (IYP).
Australian Pulse Conference 2016
Feed the Farm, Feed the World – Save the Date!
The success of the inaugural PBA Pulse Conference held in 2013, and attended by almost 200 delegates, inspired the PBA partners to ensure that the conference continues to be inclusive of all the pulse community, hence the Australian Pulse Conference (APC) has been born.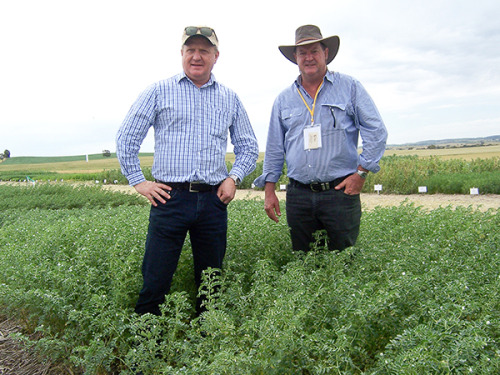 Pulse Australia CEO Tim Edgecombe (left) and Pulse Australia Director Rodney Birch at the inaugural PBA Pulse Conference in 2013.
Themed 'Feed the Farm, Feed the World', the conference will have a scientific focus aligned with the International Year of Pulses aims to heighten awareness of the benefits of pulses as part of sustainable food production delivering food security and nutrition; and to increase awareness and understanding of the challenges pulse farmers face worldwide.
The APC format will include a research presentations day, a production/industry presentations day and a field day. A conference steering committee, led by Dr Phil Davies, SARDI, has been established and planning is well underway.
Destinations Tamworth have been engaged as the Conference Coordinators. The Committee is confident of delivering an informative and entertaining Australian Pulse Conference in 2016 and will keep you all informed as plans progress. If you would like further information please email Phil Davies.