Australian Pulse Bulletin
Pulses: Understanding global markets
Key points
High prices stem demand. So the more expensive products get, consumption decreases. Markets go up, but will always come down again at some point.
Currency at origin and destination has big impact of prices and demand, e.g. lower Australian dollar means we can sell cheaper exports. Lower Indian rupee means less buying power for Indian importers. Egypt has restrictions on US dollars, therefore Egypt's demand for imports is limited.
The tonnage of pulse crop produced by Australia's major exporting competitors impacts on our competitiveness in the market compared to Canada for lentil and field pea, Europe, United Kingdom and now Canada, Poland and Lithuania for faba bean and Turkey, Mexico and Russia for desi and kabuli chickpea.
Market 'shorts' can cause spikes that temporarily inflate prices.
The quantity and quality of the pulse crops produced in Australia does affect local and international markets.
Domestic markets can impact in years of short supply, particularly for field pea, lupin and faba bean.
Weed seed restrictions into India necessitate cleaning of Australian pulses before exporting.
Price varies according to time of sale, whether at harvest or after storage or warehousing.
Demand for pulses from the Indian sub-continent is likely to continue to meet the domestic consumption requirement due to an on-going shortfall in domestic supply, however the size of the local crop does influence the level of import each year.
Prices of imported soybean meal and other vegetable proteins, along with feed cereal grain price, currently sets the feed pulse maximum prices that feed manufacturers and end-users can afford.
Global moves to ethanol/biodiesel production will impact on total global food and feed supply and demand.
There are a number of buyers, markets and contract options available to Australian pulse growers. It is strongly recommended that growers develop relationships with more than one buyer/marketer and remain in contact with them throughout the season. This can be beneficial to both parties as growers can provide regular updates on the potential volume and quality of the pulse grain they will be marketing and marketers can provide the most accurate information concerning the global market trends. Pulse Australia members provide a range of marketing solutions for growers.
World markets
The global pulse markets are all driven by supply and demand. Australia has a large exportable surplus of pulses, harvested mainly in October to December each year. Export destinations for Australian pulses include Asia, North Africa, Middle East and the Indian sub-continent. Pulse markets are volatile and can be subject to price changes very quickly. Although Australia is renowned for high quality grain, and can attract a premium for its pulses, it is still at the mercy of the global supply and demand situation and the consequential price moves.

World pulse production is not increasing to any significant degree, however the population that depends on pulse protein in developing countries continues to rise. The higher values for wheat and oilseeds, and a changing diet reflecting western influenceshis trend of reduced pulse area. Many growers also believe that pulse production involves a higher level of risk than some other grain crops.
A significant factor in this perceived higher risk is the spot price market that pulses are traded within. The futures and trading houses dealing with cereals and oilseeds provide growers with greater control over price risk, which is attractive to growers who look to manage the price risk of their produce. Unlike cereal and oilseed markets, pulses are not traded in advance of the purchase, nor is there a futures market.For pulses, the value at harvest or delivery to the market is uncertain when planting choices are made. This makes forecasting market conditions impossible with any confidence or accuracy, making it difficult for growers to determine the best time to sell their produce.
The world's largest consumers and importers of pulses, the Indian sub-continent, purchases pulses as demand requires. Additionally, grain visual appeal is a major consideration by sub-continent buyers and is often as important as objective measurement of grain quality.
To maximise marketing opportunities, Australian growers must continue to reliably and efficiently produce the high quality product that pulse export markets require. We can reasonably expect that pulse prices will rise and fall over time, but the on-going shortfalls of domestic production in the Indian sub-continent are unlikely to change in the foreseeable future Chickpea and lentil are the premium pulses and will command relatively better prices than field pea.
Maximising yields and keeping input costs down must remain as the driving forces for feed grains into domestic markets. Establishing an ongoing relationship with an end-user or marketer is becoming increasingly important.
Trade into some countries carries more risk to the marketer than others. In the sub-continent and Middle East markets, government controls are less stringent than those exercised in Australia and this can result in a higher degree of contract defaults and disputes over shipment quality on arrival at the destination port.
Australian marketers factor this higher risk into contracts. This situation is somewhat worse when world financial markets are highly volatile. Such situations usually result in a tightening of lines of credit, which makes marketing difficult to achieve for anything other than the spot market.
Understanding and being able to react to market influences is difficult and complex. Your preferred marketer will keep abreast of developments and advise accordingly.

Major pulse importers
The Indian sub-continent (India, Pakistan, Sri Lanka and Bangladesh) is the world's largest consumer and importer of pulses. It is Australia's biggest and most important pulse market. With a growing population and a trend towards increased cereal and oilseed production and consumption, pulse production in the area regularly falls well short of domestic demand, often to the tune of 3–4 million tonnes annually. This can be exacerbated by unfavourable seasonal conditions.

Understanding the degree of domestic pulse production in the sub-continent will provide indicators as to the likely demand for Australian pulses. In common with Australia, India produces desi and kabuli chickpea, field pea and lentil. Faba beans are not consumed widely in India, and therefore is not a market for Australian faba bean exports.
The Indian agriculture system has two seasons, the Rabi (winter growing season) and Kharif (summer or monsoon season). Rabi planting occurs from October to January and harvest finishes in June, prior to the monsoon season. Almost all crops are irrigated. A strong monsoon season is necessary to replenish soil water and irrigation reserves for production in the rabi season.
Kharif planting occurs from June to August when the monsoon starts and harvest commences as early as October. Some irrigation is used, but most production is rain-fed.
In India, the government plays a major role in regulating domestic pulse grain supply, with the aim to have domestic pulse prices as low as possible. Most pulse purchases are made on a tender system via government agencies. This allows the government to on-sell the grain at a subsidised price onto the domestic market to offset the fluctuations in world prices, enabling the majority of the population to purchase more affordable pulse grain. Government regulations limit how long private traders can hold pulse stocks, reducing the opportunity for speculation that may lead to increased domestic prices.
While currently relaxed, the government can also apply a 10% tariff to imported pulse grain where domestic supply is deemed to be adequate to meet demand.
World pulse production calendar
There are significant variations in the timing of seeding and harvest of pulse crops between the northern and southern Hemispheres. The northern hemisphere pulse crop is summer grown while the southern hemisphere is winter grown. The exception is chickpea, which is grown in both winter (rabi) and summer (kharif) seasons in the Indian subcontinent.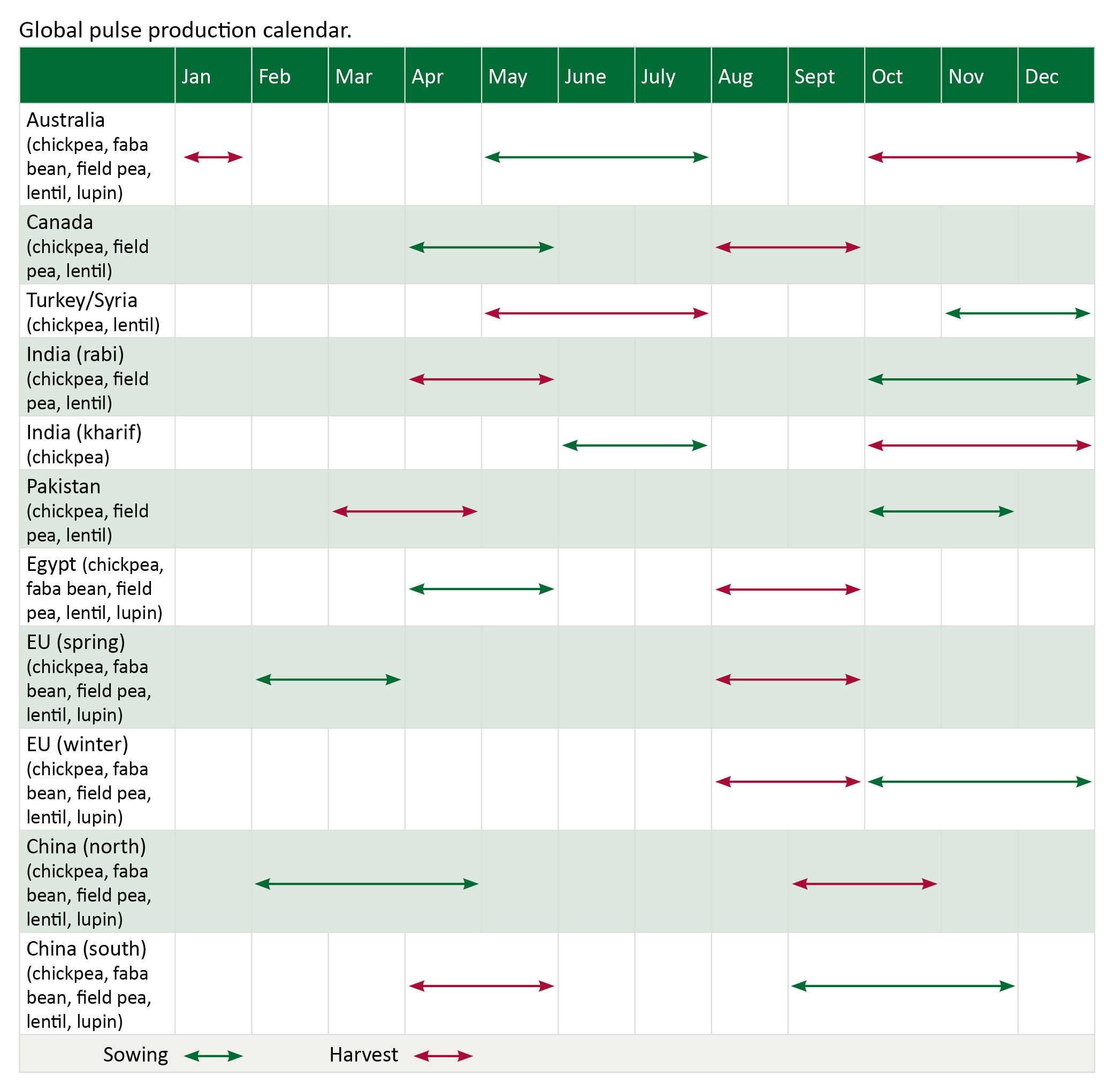 Chickpeas
Chickpea is also known as ceci bean, garbanzo bean, chana, sanagalu Indian pea and Bengal gram.
Chickpea has two distinct types – desi and kabuli – with different market preferences and prices. Both command the highest prices when grain size is large with an even and light colour.
Desi chickpea is the smaller and darker of the two types and generally more suited to broadacre production across a wide range of regions. Large seed will be used as whole grain, but the principal use is as a dehulled and split grain (dhal). Despite desi chickpeas being used for dhal, a light tan seed coat is paramount to buyers.
Kabuli is the premier chickpea type and is priced on size and colour. Shape and texture are also important as it is mostly consumed as a whole grain in chickpea salads and hot meals. Bigger is usually preferred as is an even, light creamy coloured coat. Large (9–12 mm) kabuli chickpea production is best suited to regions with reliable rainfall and/or irrigation, which is particularly important during grain fill. Small kabuli (6–8 mm) varieties are more adapted to medium rainfall regions, and are primarily used as whole grain or for milling into flour (gram or besan).
Because of the popularity of kabuli and the difficulty of achieving high quality grain, a greater number of countries import kabuli chickpea compared with those that import desi types.
The primary competitor for desi chickpea in sub-continent markets is the Canadian yellow field pea. When the differential in price between chickpea and field pea is large, buyers will look to field pea to substitute for a proportion of the chickpea flour. This then lowers the cost of production, hence price of manufactured foods. Canada is the largest producer and exporter of yellow field pea.
Factors that should influence Australian farmers to grow chickpea include:
the Indian winter (Feb–April) Rabi production estimate
any negative influences will increase the need for imports of either chickpea or field pea
Canadian planting intentions and export carryover estimates for yellow field pea
quantity of Australian production
quality of Australian production.
Outlook for Australian chickpeas is influenced by:
the chickpea harvest in Canada, Syria and Turkey, which occurs before the Australian harvest
prospects of harvest in the Indian sub-continent, which occurs at and after Australian harvest.
Lentils
Also known as masoor, lentil is the premier winter pulse for consumers and often attracts the highest price of all the Australian winter-grown pulses. It is always in demand on the Indian sub-continent and Australia is a significant world supplier of lentils into this market.
There are two types of lentil—red and green. Canada's lentil production is principally green lentil, while Australia's is principally
red lentil. Red lentil is more adapted to the lower rainfall regions of southern Australia.
Australia is one of the main exporters of lentil on the global market, along with Canada and the USA. Smaller exporting countries such as Turkey and Myanmar also influence the world price but are less predictable with their varying exportable surplus or import needs.
Factors that should influence Australian farmers to grow lentils include:
local price expectations and their relativity to other pulses and grains

Canada's planting intentions, data available from April

Canadian domestic carryover stocks and the quality of those stocks

Myanmar's export surplus

domestic production of pulses in India, finishing in May

availability of forward price contracts in Australia.

Outlook for Australian lentils is influenced by:
the crop harvest in Canada, Syria and Turkey (before Australian harvest)
prospects of lentils in the Indian sub-continent (at and after Australian harvest).
Lupin
The export and domestic trade in Australian sweet lupin (narrow-leaf) is principally for the stockfeed industry. It is sought after as a high protein ingredient for rations used in the intensive dairy, beef and pork industries. It also is highly desired for the extensive sheep industry and has desirable properties for the aquaculture market. Interest is increasing in the human consumption of lupin.

Australian seasonal conditions and the subsequent availability of pasture feed and the various feed grains strongly influences the lupin farm gate price. In drought years, domestic demand for lupin will drive prices higher than that achieved in export markets.
The price of imported vegetable protein, such as soybean meal, canola meal or palm kernel meal, strongly influences the lupin export price. Soybean meal is usually plentiful in supply and can be sourced all year round, enabling forward ordering and regular supply.
Export markets for Australian sweet lupin are distinctly different to those for other pulses and include Spain and South Korea for intensive animal feeds, and aquaculture markets in Scandinavia and Indonesia.
The albus lupin market is primarily in Egypt, where it is consumed as a snack food. This is a limited market with a total import requirement of around 50,000 tonnes annually. Overproduction in Australia can exceed the Egyptian market requirements and flatten demand accordingly. Despite their similar nutritive value, albus lupins are not as readily accepted into the domestic feed markets as Australian sweet lupin (narrow-leaf). This is possibly driven by the historically higher pricing for export markets where production was often lower than export demand.
Factors that should influence Australian farmers to grow lupin include:
domestic stocks and previous season domestic production.

Factors that should influence marketing decisions for Australian lupin farmers include:
estimate of domestic production of lupin

estimate of domestic availability, type and quality of protein feeds including green pasture

on-farm storage capacity enabling marketing throughout the year

the world price and availability of soybean meal

demand for on-farm use by graziers as a fodder grain, especially in drought situations.

Faba beans
The market for faba bean, also known as horse bean, is more limited than other food pulses, and is largely restricted to the Middle East, principally Egypt.
Suppliers of faba beans to Egypt include the United Kingdom and the European Union (predominantly France), both of which have a geographical advantage over Australia in shipping. Additionally, the harvest of European faba beans is complete by September, giving a 3–4 month advantage to supply this market before the Australia harvest is ready for export.
Markets prefer the green seed coat colour of new crop faba bean.It is critical that Australia produces a high quality faba bean product with excellent colour and uniformity of size. As the seed coat oxidises, buyer acceptance declines along with the price. Storage facilities with controlled temperature can increase the time before oxidation starts to occur.The European faba beans can be of lesser quality, often because of bruchid damage (a similar effect as pea weevil in Australian field peas).
Faba beans that have a minor seed coat blemish (wrinkling, staining or darkening with age) can be split to produce a quality product if the defect does not damage the kernel. This is, however, a more limited market.
Broad beans face similar market forces.

Factors which should influence Australian farmers to grow faba or broad beans include:
forecast planting intentions of European farmers, France and UK

previous season import activities of Egypt

export activity from Australia and potential carryover stocks.

Outlook for Australian faba beans is influenced by:
the crop harvest in Egypt, UK and France (before Australian harvest)
prospects of Chinese exports (before and at Australian harvest).
Field peas
Known as yellow pea in Canada (similar to white field pea in Australia), Australian production includes dun, white, blue and kaspa type field pea. The kaspa type is now the most dominant in Australian agriculture. It's less bitter taste than 'dun' is preferred in southern India and Sri Lanka.
Canada is by far the world's largest exporter of field peas, known as 'Canadian Yellows', which are white seeded, round peas with yellow kernels. Canada exports throughout the year to the sub-continent with India being its biggest customer. Australian production and export totals for field peas do not influence world prices.
Canadian Yellow peas are used in the sub-continent principally by lower paying markets, but will be purchased in larger quantities when the import price of chickpea and lentil becomes too high for the domestic market. Similarly, demand for Australian field pea will increase when the Indian market deems that the price for chickpea is too high.
Factors that should influence Australian farmers to grow field peas include:
Canadian field pea planting intentions, data is available in March to April

Indian domestic rabi season (February to April) pulse production. Any negative influences will increase the need for imports of either chickpea or field pea.

Outlook for Australian field peas is influenced by:
pea and chickpea harvest in Canada + chickpea production in Syria and Turkey (before Australian harvest)
prospects of harvest in the Indian sub-continent (at and after Australian harvest).
Note that field pea market issues must take chickpea supplies into account, although Australian kaspa peas are now finding their own unique market in India apart from as a substitute for chickpeas.
Key contacts
Disclaimer
Information provided in this guide was correct at the time of the date shown below. No responsibility is accepted by Pulse Australia for any commercial outcomes from the use of information contained in this guide.
The information herein has been obtained from sources considered reliable but its accuracy and completeness cannot be guaranteed. No liability or responsibility is accepted for any errors or for any negligence, omissions in the contents, default or lack of care for any loss or damage whatsoever that may arise from actions based on any material contained in this publication.
Readers who act on this information do so at their own risk.
Copyright © 2015 Pulse Australia
All rights reserved. The information provided in the publication may not be reproduced in part or in full, in any form whatsoever, without the prior written consent of Pulse Australia.
Last updated: 20 November 2015