Silica boosts soil health and peanut production
Source: PCA Newsletter July 2020
Growing peanuts is increasingly being adopted by sugar cane farmers to create an additional revenue stream and improve soil health for improved yields and reclamation of marginal land. While peanuts are considered a 'tremendous companion' for successful cane growing, Australian grown peanuts are in extremely short supply, with Bega Company's, Peanut Company of Australia actively supporting increased production.
Soil health is the key
Third generation Bundaberg farmer Dean Cayley said, "My grandfather started farming here in 1947 and the first crop grown was peanuts, and here we are seventy years later growing peanuts once again."
"Maintaining soil health has always been a priority which is why we have rotated crops and incorporated green manure crops/trash back into the soil. We are looking for new ways to improve soil carbon and structure."
Dean jumped at the chance to trial the new Queensland Organics Silica Booster organic fertiliser in his 2019 peanut plantings. "I was impressed by how easy the product was to handle, its consistency of application and the ability to add plant available silica in combination with carbon and beneficial microbiology."
Silica Booster was applied in two different blocks at different application rates (1 ton/ha and 2 ton/ha) for comparison with standard conditions.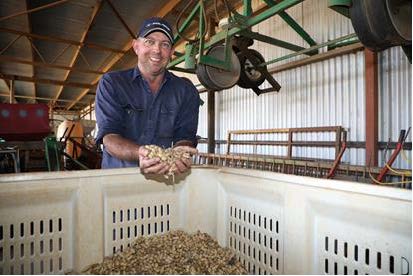 Dean Cayley was impressed with the quality of the kernels at harvest.
Improved plant performance
Even under dry conditions, the crop has responded well with healthy, vibrant plants.
"It was obvious the crop was flourishing, with deeper roots, thicker leaves and stronger stems. Healthier plants meant I had no disease in this year's crop, even in the new variety trials, so much so I ceased fungicide spraying 6 or 7 weeks prior to harvesting."
"Stronger kernels meant fewer split shells and less rejected product, ultimately its what you put in the bin that counts. I will be repeating the trial this year and look forward to assessing its performance with other crops."
Universal applications
Riaan Breedt, Principal Agronomist, Queensland Organics said, "Increased levels of soil health deliver results like this. Trials continue to demonstrate the value of increased carbon, beneficial microbiology and plant available silica to plant performance and yield."
"Improved soil health enables greater nutrient availability and uptake, enhanced disease and pest resilience and higher levels of moisture retention The importance of silica in strengthening plant cells, disease suppression and buffering environmental conditions is becoming better understood."
"Silica Booster has a high cation exchange (making it equally beneficial in Kingaroy's red soils as the sandy soils of the Alloway trial."
For more information : Riaan Breedt, Principle Agronomist Queensland Organics 0437 124 600 RiaanBreedt@qldorganics.com.au
Read Pulse Check blog articles | Pulse Check Coastal facebook | Subscribe to the monthly newsletter