Directors
The current directors of Pulse Australia Limited are:
CHAIRMAN
Ronald Storey
BEcon, DipAgEcon, DipEd

Ron has over 30 years involvement in the Australian grains and agribusiness sector and was a senior executive with AWB Limited for almost 20 years, dealing with local and overseas grain marketing, risk management and logistics.
Ron runs an agribusiness consultancy (Storey Marketing Services) and developed Australian Crop Forecasters (ACF) as Australia's best known independent broad acre forecasting service. ACF is now owned by NZX Limited and Ron retains a consulting role.
Ron is a Director at Australian Export Grains Innovation Centre (AEGIC) and Mallee Sustainable Farming Inc and is a past Chairman of AGT Breeding, one of Australia's leading plant breeding companies.
DEPUTY CHAIRMAN
Georgie Aley
BEqBusMan, MBA

​Georgie is managing director of the Grains & Legumes Nutrition Council (GLNC) and chair of the Future Farmers Network.
GLNC is the independent authority on the nutrition and health benefits of grains and legumes across Australia and New Zealand, representing the whole value chain from growers to food manufacturers.
She is a Member of the Australian Institute of Company Directors and the Australian Institute of Food Science & Technology. Georgie was the inaugural recipient of the Rabobank Emerging Agribusiness Leader Award in 2013.
NON-EXECUTIVE DIRECTORS
Peter Wilson
GDip Agribus

Peter is the Director Northern States for Australia Milling Group, part of Alliance Grain Trading, based in Regina, Saskatchewan and listed on the Toronto Stock Exchange.
Prior to joining Australia Milling Group, Peter held a range of senior management and trading positions with JK International Pty Ltd in Canada and Australia and AWB Ltd (formally the Australian Wheat Board).
Peter maintains a keen interest in production economics via a family farming and contracting business on the Darling Downs in southern Queensland. He is also a lecturer at the University of Queensland for the Commodities and Risk Management Unit.
Sanjiv Dubey
MEcon, MBA

​Sanjiv is a director of GrainTrend Pty Ltd, Australia, an agribusiness export trading house based in Sydney.
He is an experienced international trader having traded in India and Malaysia. He handles trade in both bulk and containerised cargoes.
Sanjiv has a sound understanding of the pulse industry in Australia and overseas, having dealt with both Australian growers and trade participants across the globe. Sanjiv sits on the Executive Committee of the international pulses body CICILS-IPTIC and is on the panel of approved arbitrators of Grain Trade Australia (GTA).
Francois Darcas
BAgSc/Ec, MBA

Francois commenced his career in the global grains industry with Louis Dreyfus in Chicago in 1989 and has since held various positions with international grain and pulse trading companies in New York, Hong Kong, Paris, Switzerland and Melbourne.
He now operates his own pulse trading buisness, Agri-Oz Exports Pty Ltd.
Francois' International trade experience and network of contacts is an invaluable asset to the Pulse Australia Board in both developing overall policy and in responding to issues in international trade contracts, importing government inconsistency and so on, that may arise from time to time.​
Brett McIntyre

Brett has been involved in the agricultural sector for over 30 years, commencing his agricultural career operating and managing the family farming business located on the Darling Downs for 18 years.
Following the sale of the family property, Brett took on the role Marketing Services Officer with Mt Tyson Seeds for 5 years. For the past 12 years Brett has been involved in the management of pulse processing and packing plants and is currently employed with Olam QLD Cotton as Regional Manager for Pulses.
Brett has been a member of the Australian Mungbean Association for the last six years, fulfilling a number of executive positions, and is currently the Treasurer for the AMA. Brett is also the current Treasurer of the Australian Sumer Grains Conference committee.
Nick Poutney
BBus, BA

​Nick is a Senior Trader with GrainCorp, responsible for managing trade to the Middle East, Africa and Japan. Nick is also the Head trader for the GrainCorp Pulse business (specialising in peas, beans and lentils).
Based in Sydney, Nick has 15 years of international grain trade experience with Australian Wheat Board, Viterra and GrainCorp, including 8 years positioned in Geneva.
Andrew Earle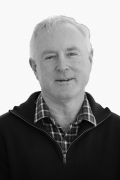 Andrew is the managing partner in a farming and grazing enterprise located on the Queensland–New South Wales Border, growing crops on 16,000 ha and running 10,000 Merinos and prime lambs.
The crops grown are wheat, chickpeas, barley, faba beans, dryland cotton and sorghum. The Earles also host a number of GRDC-funded trials on the property including a Farming Systems trial, National Variety Trails and nutrition trials. Andrew was Queensland Grain Grower of the Year 2013 and is a partner in a grains storage and handling business located in Thallon.